Kaiser-Willys-Jeep Sign Restoration





(* Click on image to see larger versions. *)


| | |
| --- | --- |
| One of the E's was broken for the JEEP neon section | Analysis of this neon section showed that the original color was blue. |
| Putting the plan for making the JEEP neon section on paper | Comparing the plan with the old JEEP neon section |
| The glass tube is compared to the plan as each of the bends are made. | Checking the tube. |
| Marking the glass for where the tube needs to bend | Using the torch to bend the glass tube |
| Applying paint to the new JEEP section of neon | The new JEEP section painted |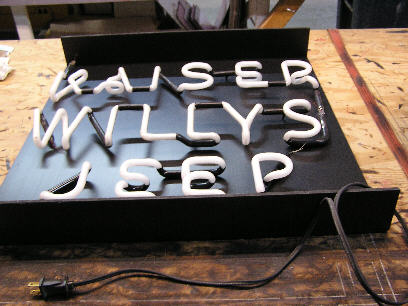 The rest of the old working neon was cleaned and repainted. A new back board was constructed so the neon can be installed. A new transformer was also used.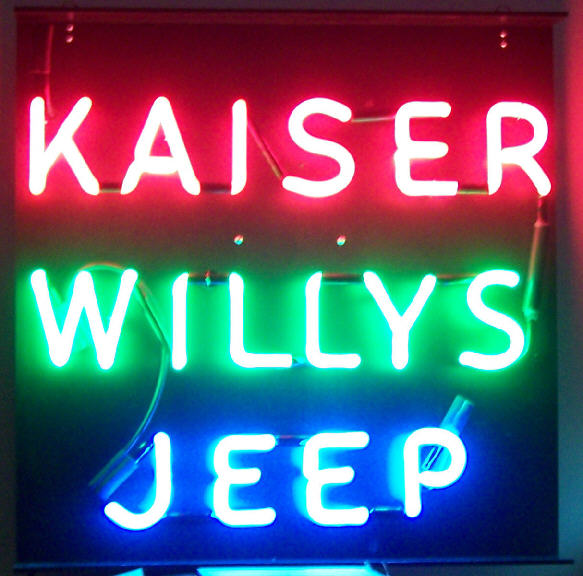 Photo of the sign in the dark.






The sign came out beautifully! If you are looking to have a sign restored (or even have one made), I highly recommend Affordable Signs and Neon at http://www.signsandneon.com/. They do great work! And I want to thank Charlie and the guys down there for helping me save a piece of Jeep history!

---
Copyright 2009 - Todd Paisley (paisley@erols.com)
Last updated 8 April 2010