Jeeps on the Farm
Popular Mechanics - January, 1943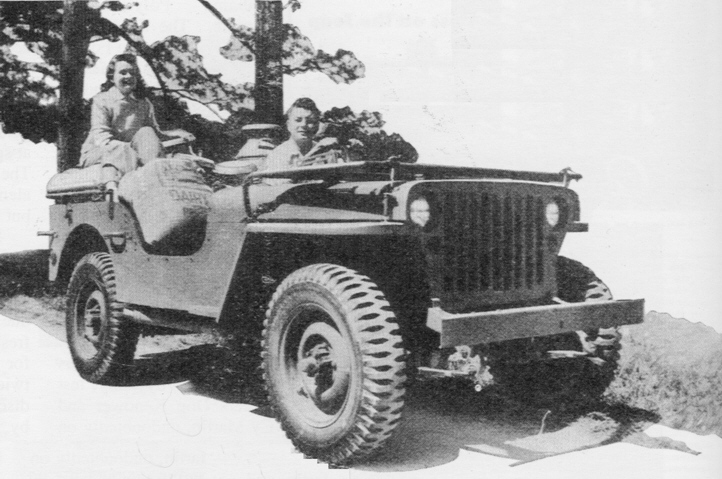 Right now the jeep is not looking for a job. It has plenty to do, and is doing it in every quarter of the globe. But it will be different after the war, and to keep the jeep out of unemployment the Department of Agriculture has been testing it as a potential postwar work horse. Above it is hauling produce to market.
| | |
| --- | --- |
| | |
| A jeep pulls a spike-tooth harrow. | The war baby pulls two 14-inch plows cutting furrows six inches deep. |
| | |
| --- | --- |
| | |
| In tests at Auburn, Ala., the army's reconnaissance car proved a versatile source of power - except for working row cops. Jeep operating cotton or corn planter. | Trying out the jeep's talents on a mowing job. Government experts say the jeep could be highly useful as supplemental power for light plowing, road use, and general field work, but it is too low and narrow for most row-crop cultivation jobs. |
| | |
| --- | --- |
| | |
| This bucking bronco of the army is tough enough for the rough work encountered on the farm. It could "ride herd" like a cow pony, pull like a draft horse. | The tests included power pulls against a dynamometer, during which the jeep developed a 1,300-pound pull with almost no wheel slippage. The four-wheel drive with six forward and two reverse speeds offer plenty of pull for field operations, and the front wheel drive can be disconnected for road work. The jeep's engine develops 60 horsepower. |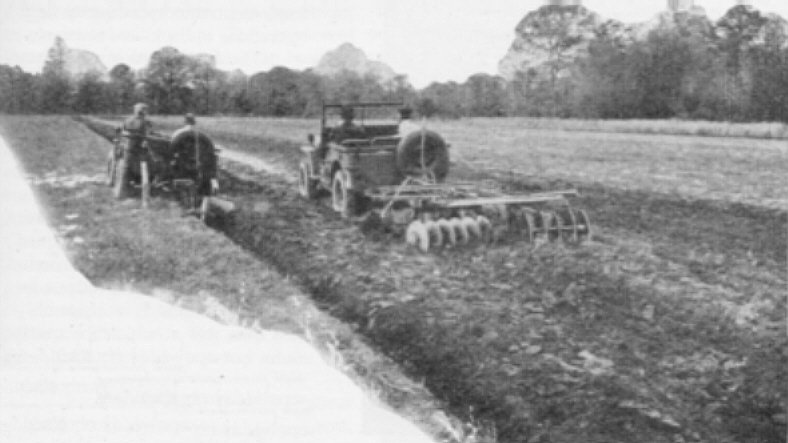 Two jeeps team up to plow and prepare a seed bed. Using one gallon a gas to the acre, a jeep disked a 20-acre plot so muddy that chains were needed on all wheels.