Original Source Documents: August 1942 - The Story Behind the Army Jeep - Illustrated Gazette - Vol 1 No 4 - pg.1,2,6,8
Contributor: Robert Notman
Source: U.S. Army Military History Institute
---

The Airplane, Not the Jeep,
Is Jeep Man's True Love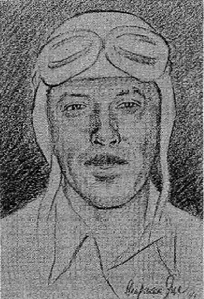 THE JEEP MAN
From a Recent Pencil Sketch
Charles Harry Payne, the No. 1 Jeep man, came out of the clouds only long enough to launch the Jeep two years ago. He has returned to his first love - aviation - and is now engaged on a secret project in that field for the government.
Harry (as he prefers to be called) was born in Lockport, N.Y., 48 years ago, but refers to Mt. Holly, N. J. as his home. He attended Mt. Holly high school and graduated from Connecticut Literary Institute at Sheffield.
He was a commissioned Navy pilot in the last war (license 483) and has spent his entire life since 1918 in promoting aviation. He has seen most of the world from a bird's eye view. Among his best friends and business associates he includes General "Billy" Mitchell, Roscoe Turner, Jimmy Taylor, Frank Hawks, Locklear, Eddy Stimson, Catherine Stimson and Cols. Bishop and Barker, the latter Canadian aces of War I.
The above named flyers kept aviation alive until 1932, when voluntary money started to come in. Payne relates and adds that he was in his element putting over the Jeep because, as an aviation promoter, "I was used to being called crazy."
Our No. 1 Jeep Man is a slim six-footer. He thinks fast and talks fast and is blessed with a superior sense of humor. He has a suite at the Jefferson Apartments, Washington, D. C., but is seldom there. When he isn't down at a certain place in Florida perfecting his new air gadget, or in the Capital, he's flying between those two points.
Alluding to the "gadget", Harry says it will be more valuable to aviation than the Jeep is to Army transport.
---
Willys-Overland Home
Early Jeep Documents Home
---
Copyright 2006 - Todd Paisley (paisley@erols.com)
Last updated 24 August 2006