Original Source Documents:
Contributor: Bill Spear
Source: George Domer - Permission granted to post this article on 9/14/2006
---
Looking Back:
Harold Crist
The Man and His Machines

by George Domer

The circle grows ever, inevitably, smaller and smaller and we who are interested in American Austins, American Bantams and Bantam BRC-40s (Jeeps), are the losers. We would be so much more the loser if some of those who have gone had not been so generous with their recollections of those long ago days. From them we have learned much and so have history and truth to pass on to those still to come and to those present - who care.
Mr. Harold E. Crist was a vital arc of the small circle of persons who were part of the operation of American Bantam Car Company located in Butler, Pennsylvania. Not too many remain but it is fair to say that each would agree that Harold Crist was without a peer in the role he played in the day-to-day endeavors of the small struggling enterprise. His leadership was unquestioned in the physical construction of the small military vehicle destined to become known globally as the Jeep and which is still with us over four decades later.
Some of us were fortunate enough to meet the spry and friendly octogenarian at Butler during the Austin-Bantam Club Convention in July, 1980. Although 83 at the time, his keen mind, his evident pleasure in examining the Austins and Bantams and his noticeable rapport with Bill Lewton's Bantam BRC40 were a joy to the eye of the beholder. He was a man you could very quickly learn to like.
Mr Crist was an old time automobile man. His career took various paths at divers time but his heart was in the auto industry. Eighteen years with Stutz, "The Car That Made Good In A Day" and a stint with Marmon during the Roosevelt development, helped form his background of sound engineering practice. In addition his experience with these firms during trying financial times sharpened his natural innovative aptitude. His time with Stutz was well spent and successful but the greatest ability is often no match for depression in the business world and circumstances over which no individual has control.
All that went before was but prelude to his period of most rewarding labor for American Bantam from 1937 to 1942. Busy, intense years which were personally both frustrating and alternately very satisfying years.
His titles were impressive at Bantam; Plant Manager, Chief Engineer and finally BRC Project Manager as well. But due to continual lack of proper operating capital he found each assignment to consist of many lesser duties in addition to the one so designated by title. And he relished the freedom this condition offered. The men of the old circle all felt the challenge and responded to the Crist manner.
It was a Monday to Friday job but most Saturdays found him and at least one other dedicated individual in the experimental department doing his best to improve the Bantam until it was to be second to no other aircraft brakes for Glenn L. Martin in Baltimore were but two examples of his efforts along that line. These contracts and others brought in needed dollars which enabled Bantam to survive as a viable concern until Fate chose to move the little firm to center stage of an incredible and historic production.
Harold Crist, with steadfast modesty, always contended that no single individual was responsible for the creation of Bantam's contribution to mechanized warfare which was quickly dubbed "The Jeep." He maintained it was a Bantam Company engineering and man-power group effort It was not "invented" by any one person or constructed by or along the Ideas set forth by a lone genius or inspired visionary dreamer, It was a culmination of ideas, plans, needs which were evident to men of military experience, and of endless talk after abortive efforts and experiments which had always proved to be far less successful than had been hoped. So no one man was solely responsible when success was finally attained but as a house of cards will not endure the absence of a contributing piece, small car in the world at that time. And they did just about that by the time the gathering clouds of war dictated that the attention of all men had to turn in a different direction.
Before that day, however, he lent his touch to the improvement of steering, shock absorbers, carburation, wiring, brakes and engine performance and reliability. He spent his own money on the development of a three main bearing engine. When the first one was installed in a Bantam roadster he and factory owner Roy Evans drove it to Pittsburgh. It successfully climbed "Armco Hill" leading out of Butler on high gear and Mr. Evans ordered the new power. plant phased into production as rapidly as possible. A great effort but just a little too late. But the car by that stage of development was one he was proud of and remembered fondly.
While doing all this he was also a salesman for the Bantam Company. Not selling cars but contract work for the company's excellent machine and tool making shops. Orders for component parts for neighboring industrial giant "Armco" and aviation products such as just so did the old circle need and depend on each member to do his allotted share. We are here concerned with the share done so ably by Harold E. Crist.
In June 1940 a sub-committee composed of infantry, cavalry, quartermaster officers and civilian engineers met at the Butler plant to examine facilities, inspect a static loaded Bantam chassis, and watch a demonstration. A stripped chassis with minimal seating capacity and stock except for using a lower than standard gearing in the differential had been readied. This vehicle was driven full bore into. over and through a virtually young wilderness combined with a dump situated in the infield of the Butler County race track a short distance west of the Bantam Company plant It was a brutal drive over difficult terrain, The driver who so much impressed Bantam's capabilities on the minds of the amazed officials watching the test was Harold Crist. He had done some auto racing in his younger days and drew on his unforgotten skills at a time they were badly needed for a most serious purpose.
Mr Robert Brown, a civilian engineer from Camp Holabird, Md., later told Crist that he had instructions to say "no" to the Bantam presentation but changed his mind after the exhibition. Brown stayed on at Butler and he and Crist worked out the specifications for the contemplated vehicle. When he left for Holabird, Crist reviewed their ideas and made the decision _that the new vehicle would have to be an entirely new machine rather than a modified Bantam passenger car or truck. He and the few others in management positions set about arranging sources for supply of gear train, transmission, transfer case, drive shaft and axles. It was recognized that Bantam's willing little engine was far less powerful than would be needed for the new machine, so out-of-plant sources of proprietary engines were contacted. All of this was done without a firm order to build a prototype!
When various organizational details fell into place and Mr. Karl Propst, design engineer, arrived in Butler Harold Crist was far enough ahead to be able to brief Propst on the tentative "specs" and the type of vehicle envisioned After a time the two men were able to come up with a configuration to be used when a bid was to be presented by those handling that phase of the projected program.
For those bids Mr. Crist figured the cost of chassis, body parts, and labor Pending the outcome of the bid he started procedures for securing material from which to fabricate many car and chassis parts in advance of engineering. He also selected two other men to assist him in the actual construction of the first vehicle or prototype. Others were selected to provide backup assistance and supply to the three doing the physical creating. Strangely enough the first word of Bantam's successful bidding came from the president of one of the outside engine companies previously contacted! Industry "grape vines" are not really all that new! And Harold Crist was ready to move!
He was known as a "go-getter" and now he proved the phrase aptly applied. As he and his small group worked unremittingly day and night selecting components, assembling, adapting and adjusting parts, solving problems and ever racing time to complete the job within specified bid time limitations... the impossible was accomplished. A new idea in machinery had been built, and in advance of actual engineering rather than in the usual reverse order. Each morning the chief draftsman of the Bantam Company had checked the progress of Harold and his crew, made sketches of the items successfully installed the day and night previously, and added them to the list of builders materials. The end result was a vehicle which incorporated, in all major areas, those ideas which later proved to be so fundamentally correct as to be used in that order even today some forty-odd years later.
Once completed it fell to Harold Crist to do something really historic - but he did not realize it at the time. He became the very first man in the world to drive the very first Jeep in the world, the very first mile! He gave it a tough and thorough test and shortly thereafter it was on the way to Camp Holabird for government qualification tests.
It not only passed them but was honored with the designation of being the most nearly perfect prototype vehicle ever to be submitted Harold Crist had to be happy with his role in the "miracle of the 49 days at Bantam."
His work with the Bantam BRC-40 was far from completed. As the tests were continued he spent full time on the project - at Butler - at suppliers factories - and with the little 4x4 at Camp Holabird. On such a new and untried vehicle there were bound to be problems. With Crist's guidance and with one of his original team of three living at Holabird and sometimes with the "laying on of hands" by Crist, himself, all vexatious situations were solved to the satisfaction of the exacting team of government test men. This was no mean accomplishment as those men had one primary goal; to subject a test machine to any and every condition aimed to expose the slightest weakness or flaw.
Regardless of Bantam BRC-40 history from that point on and injustices suffered by the small company from Butler, Pennsylvania in days to come, those successful results must always be recognized as the high point of Bantam history and the cap-stone of the career of Harold E. Crist.
As the war progressed he was able to secure a contract for the Bantam Company to produce a highly complicated 18" aerial torpedo for the British war effort It was a tricky piece of work for which he had to arrange much special tooling, but in the end very largely through Crist's knowledge of methods, the contract resulted in a lucrative success for Bantam.
His last effort for Bantam was in smoothing negotiations which gave Bantam the business of building thousands of 1/4 ton trailers. Ironically, these were designed to be pulled by Jeeps built by firms other than the originator (Bantam), but at a contract price of $150.00 - $160.00 each they did much to ensure the company of a healthy financial picture at war's end.
One more time was Harold Crist ordained to be a part of the creation of a specialized vehicle destined for military use. January 1953 found him busily assembling the old group, the nucleus of the old circle, and ready to tackle a fresh assignment with the old enthusiasm and new insight The company was Mid-America Research Corporation of Wheatland, Pa. The problem was to design and produce a vehicle similar to the Jeep which would be smaller, lighter, more maneuverable and tougher than the 4x4 then in current use. It was a difficult task - and indeed a monumental one - but, again, Harold Crist was happy and equal to the job. Ultimately the vehicle was built in some quantity by American Motors as the "MightyMite" with very slight change from the design laid down by and prototype created by the builders of the world's first Jeep.
January 17, 1982 drew the old circle a little tighter but the rays from that circle will shed their light down through History. One of the brightest beams of all will ever be identified as emanating from engineer, innovator, salesman, diplomat, go-getter, friendly, humble Harold E. Crist. We meet but one such man in a life time; we were lucky and honored to have known him. He will not soon be forgotten.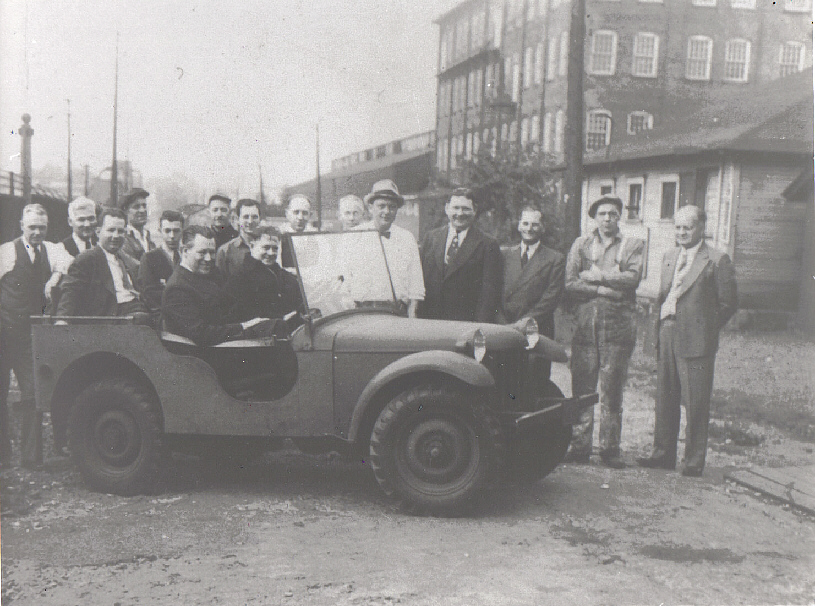 ---
Willys-Overland Home
Early Jeep Documents Home
---
Copyright 2006 - Todd Paisley (paisley@erols.com)
Last updated 26 March 2006