Willys-Overland Advertisement Print - Administration Building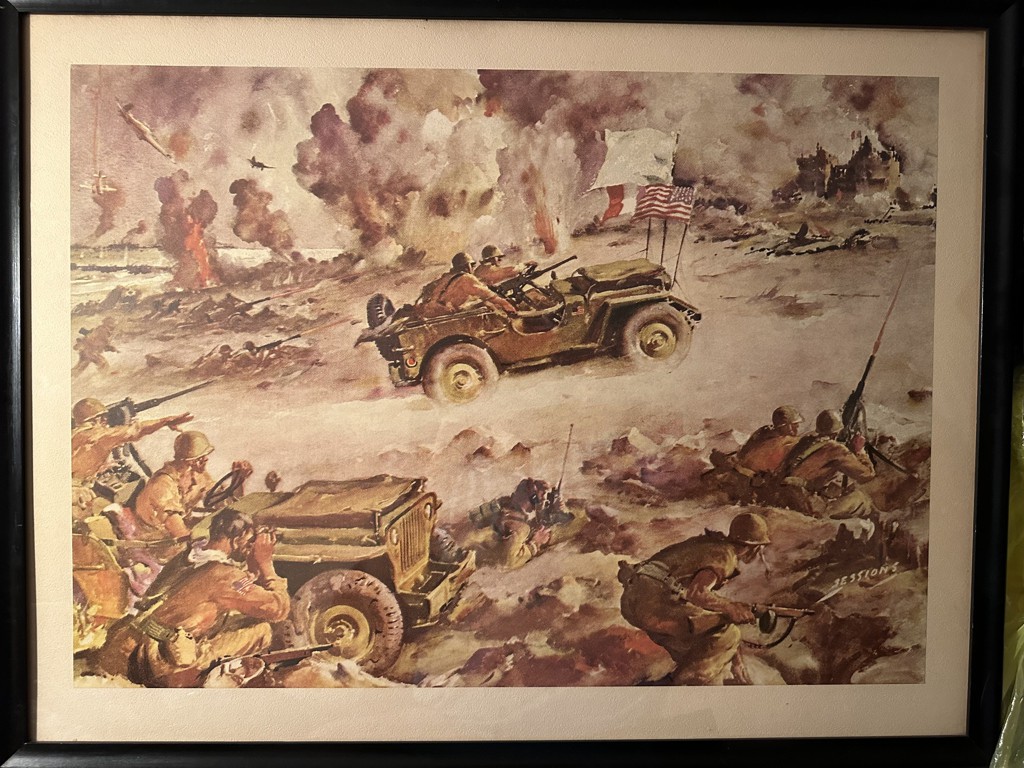 Willys-Overland Advertisement Print - Administration Building
This is a print from a WWII Willys-Overland magazine advertisement. It is 24" x 36". This print was given to Dr. Jerome Gerber upon his retirement from Jeep. Dr Gerber worked for Jeep for 23 years retiring in 1991. While at the Jeep plant, he was the Medical Director for the factory. He performed pre-employment physicals, attended to injuries that happened in the factory and stabilized serious conditions until the employees could be transported to a local hospital. The former Jeep plant had its own small hospital on the plant premise. Dr. Gerber had a nurse assisting him also. When he retired, his colleagues gave him this print that hung in the lobby of the main Administrative Building at the old Jeep plant. This print was a very special posession of Dr. Gerber.

This print was from a watercolor by James Milton Sessions (1882-1962). Sessions was an American watercolorist of marine, sporting and military scenes. He also worked as a commercial artist. Not only do his works document important World War II historical events, they visually portray and convey the spirit of the American fighting forces in both the Pacific and European campaign. The Chicago Tribune newspaper utilized his talents and Sessions is considered to be the greatest "brush reporter" of World War II. His works can be found in Presidential collections, numerous important corporate collections and military establishments throughout the country. His work is highly prized by collectors of WWII art. Sessions created numerous wartime advertisements. One of the more famous ones was a series called "Jeep at War". This series of watercolor paintings were meant to depict the Jeep's versatility in times of war and peace.

The print above was from a November 1943 advertisement called "Heroic Officers Dare Death For Men (A true incident of the invasion of North Africa)". This ad describes the heroic deeds from the North African invasions with the use of Willys Jeeps. As the advertisement also said "The Sun Never Sets on the Mighty Jeep"!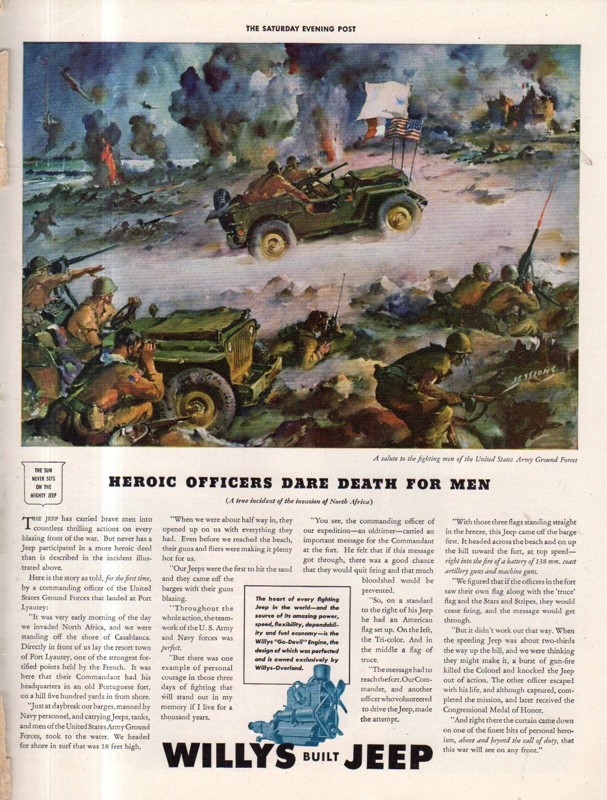 November 1943 Advertisement - Saturday Evening Post
Does anyone have any photos of this print hanging up in the administration building? I am interested in any items from the administration building. Does anyone have anything (or has photos of an item they have from it)?
---
Copyright 2023 - Todd Paisley (paisley@erols.com)
Last updated 18 September 2023